Deeply concerned by the widespread political violence that has racked Africa's newest nation since mid-­‐December 2013, Canadian South Sudanese community members and leaders met in Toronto on March 26, 2014 to share information on the crisis, build peaceful relationships across the Canadian South Sudanese diaspora, generate options for bringing an end to the violence and for coming to grips with its underlying causes.
The day-­‐long meeting was hosted by York University's Institute for Research and Innovation in Sustainability (IRIS), with organizational support from the SubSahara Centre, Peacemedia-­‐ paixmédia, Peacebuild – The Canadian Peacebuilding Network and South Sudanese community activists and opinion leaders. Discussion initially focused on sharing personal experiences of the crisis among the approximately 30 participants. It then turned to identifying the range of options available for short-­‐term peacemaking and long-­‐term peacebuilding, including tackling the country's glaring governance deficit.
While strong tensions within the South Sudanese community in Canada and elsewhere were acknowledged, roundtable participants, representing a broad cross-­‐section of the South Sudanese community in Canada, pursued discussion in a spirit of solidarity and respect for all and their opinions. No insults or verbal abuse of individuals or specific groups were expressed, despite the depth of anger and sorrow. Each participant had the opportunity to voice their feelings and views on the crisis without interruption. Compassionate listening was encouraged.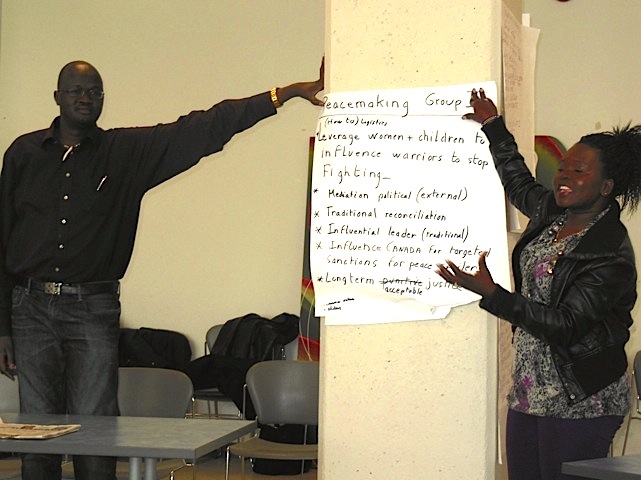 This report highlights the multiple common perceptions of the disastrous direct and indirect impacts of the violence on South Sudanese in their home country and in the diaspora, regardless of ethnic or religious background, age group, gender or educational attainment. It also sets out suggested collective responses to the crisis for urgent further consideration and action both in South Sudan and in Canada.
To encourage open discussion during the roundtable, it was agreed that comments by individuals would not be attributed in this report, and a very few asked that their names not be included in the list of participants attached.
View the full report from the Roundtable.