Archived Content

The Campus Food Sustainability initiative, which began in the fall of 2008 by IRIS in collaboration with York University Food Services, aims to make the food on campus more sustainable by seeking out green alternatives. The goals of this project include:  Research on the food preferences and needs of the student body, research on how waste can be reduced, increase the amount of eco-friendly meal options, such as vegetarian options, examination of the waste on campus, such as polystyrene cutlery and biodegradable materials, and feasibility of a composting system on campus.
Our report "Examining Campus Food Sustainability at York University", is now available.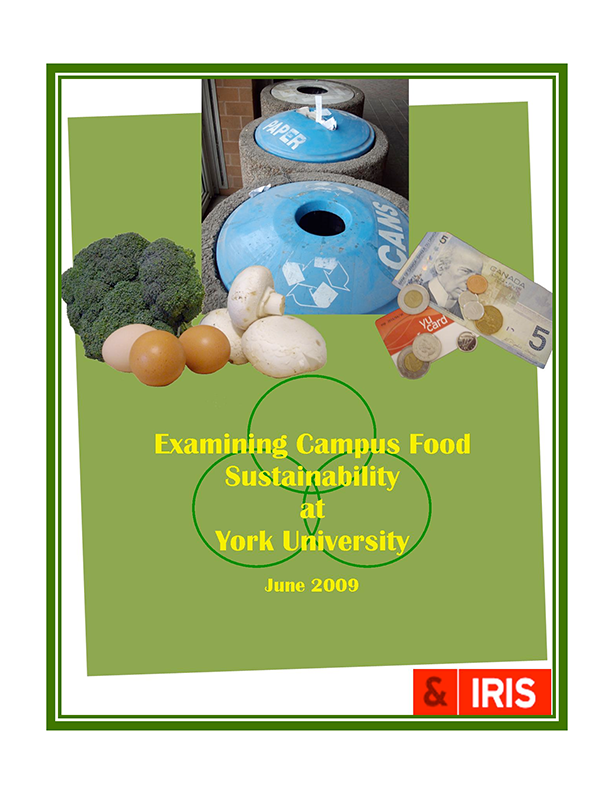 Additionally, we hope to converse with owners of independent establishments contracted under the University, in order to phase out the use of unsustainable food packaging. We are currently working with the proprietors of Indian Flavour to find an affordable solution.

YORKW!SE Healthy Eating Guide
The YorkW!se Healthy Eating Guide is a campus map of all food vendors with a brief description of the type of food you will see there. The map is somewhat out of date.
1) East Office Building Cafeteria no longer exists
2) Megabytes is now the Las Nubes cafe
3) The Bull in Founders no longer exists
4) The Atkinson Cafeteria is no longer Eat Smart Certified
If you would like a copy of the Healthy Living Guide please come by the IRIS office at 349 York Lanes.
Vegan & Vegetarian Directory to York University Keele Campus
Many survey respondents expressed that they would like more vegetarian or vegan options. While it is certainly the case that these options can seem hard to find, they do exist on campus, if you know where to look! The Vegan & Vegetarian Directory is a service provided by the York Animal Rights Group.  It is intended to assist students who choose to eat a vegan (meat, fish, dairy and egg free) or vegetarian (meat and fish free) diet.  This information is accumulated by student volunteers from managers of restaurants on campus.
Please note that this is a work in progress, and as such, there are many restaurants and/or vegan/vegetarian choices that are missing from the following list. Restaurants noted as *favourite pick* are noted as places where vegan and vegetarian options are clearly labelled, and where the staff are particularly knowledgeable and sensitive of vegan diets.
| | | | |
| --- | --- | --- | --- |
| Name | Location | Vegan Options | Vegetarian Options |
| Absinthe Pub and Coffee Shop | Winter's College | Humus platter, vegan chilli, often have vegan soups on rotation (ask the server) | Veggie Quesadillas, nachos with cheese, usually 1 vegetarian daily special (Ask the server) |
| Berries and Bloom | York Lanes Retail Centre | There are a number of salads and fruits that may be vegan, however YARG has not confirmed which items as of yet. Ask the server. | There are a number of salads and fruits that may be vegetarian, however YARG has not confirmed which items as of yet. Ask the server. |
| Blueberry Hill | York Lanes Retail Centre | Vegetarian chilli (request to have it without cheese), fries, salads | Poutine (vegetarian gravy) |
| Booster Juice | Central Square | hot acai, any of the juices, soy milk tetra paks, wheatgrass shot, acai nrg shaker, matcha shaker, acai berry bowl, zola acai tetra pakN.B.: boosters contain bee pollen that is collected from the legs of bees (request to not include the booster) | All Smoothies, juices and hot drinks; vegetarian panini, greek vegetarian wrap, egg scrambler wrap, yogurt blendzN.B.: boosters contain bee pollen that is collected from the legs of bees (request to not include the booster) |
| Centre for Film & Theatre Café | Centre for Film & Theatre | Veggie burger (bun contains eggs), potatoes | Sandwiches, potato pizza, select bar items, daily specials (including stuffed zucchini, grilled eggplant, stuffed red peppers with rice and vegetables, pasta) |
| Complex 2 Cafeteria | Basement of Bethune/Stong | Veggie sandwiches, salads | Daily specials always include one vegetarian item |
| Country Style Kosher Coffee | Winter's College | Falafel and all salads that come with falafel (hummus etc.) | Veggie burgers, mushroom crepes, veggie rice, lasagne, pastas |
| Vending Machines | Curtis Lecture Hall | Soy and rice milk tetra paks | |
| Falafel Hut Village | York Lanes Retail Centre | Hummus & pita, falafel, eggplant salad (with or without pita), artichoke salad, chickpea salad, veggie delight (chickpeas, potatoes, rice, tomato sauce), fried eggplant, fried cauliflower, grapeleaf, tabouleh salad, garden salad, lentil soup | |
| The General Store | York Lanes Retail Centre | Variety of nuts, dried fruit, dark chocolate, canned soups, cereal, cookies (ex. Oreos), candy (ex. Sour patch kids), chips, vegan margarine, soy milk, juices | |
| The Grad Lounge**Favourite pick! | South Ross, 1st floor | Chana wrap, veggie chilli, daily specials and soups often are vegan (inquire with staff; will be labelled as vegan), salads, soups, fair trade coffee, samosas with tvp, nacho chips | Veggie burgers, veggie burritos, often daily specials and soups (inquire with stuff; will be labelled)N.B.: Veggie patties contain beef |
| The Great Canadian Bagel | York Lanes Retail Centre | All bagels (except French toast bagel and those with cheese on top), veggie sandwich (vegetables on bagel or bun) | Vegetarian soups availableEgg salad sandwich, cheese sandwich, Bagels with cream cheeseNote: Lox cream cheese is NOT vegetarian |
| Indian Flavour**Favourite pick! | York Lanes Retail Centre | Rice, chana (chickpeas), daal (lentils), potatoes, veggie samosa, mixed veggies, most curries, salads (vegan items are labelled) | Hakka noodles (contains egg), veggie curries with yogurt or cottage cheese (labelled vegetarian), spinach samosas (contains cheese), naan bread (contains milk), veggie wrap (made with naan bread, mixed vegetables and mayo), lassi (mango, sweet, salty or spicy – contains milk), gulab jamun (contains milk), carrot pudding (contains milk), rice pudding (contains milk), ras malai (contains milk), chai tea (contains milk) |
| Mangia Mangia Italian Eatery | York Lanes Retail Centre | Fresh vegetables, broccoli, smoothies, pasta, salads, freshly squeezed juice, gnocchi with tomato sauce | Cannelloni, tortellini, ravioli, vegetarian lasagne, veggie pizza, panzerotti |
| Michaelangelo's (Atkinson Cafeteria) | Lower Level Atkinson College | Salad bar, fresh fruit | Sandwiches, potato pizza, select bar items, daily specials (including stuffed zucchini, grilled eggplant, stuffed red peppers with rice and vegetables, pasta) |
| Orange Snail Pub | Stong College | We have been told this pub offers many vegan options, however we have not confirmed which items are vegan as of yet. We are also told the servers are knowledgeable and approachable re: vegan items. | We have been told this pub offers many vegetarian options, however we have not confirmed which items are vegan as of yet.We are also told the servers are knowledgeable and approachable re: vegetarian items. |
| The Original Panzerotto Pizza | Student Centre Food Court | Pasta with tomato sauce | Veggie pizza, veggie panzerotto |
| Pagoda | Student Centre Food Court | Mixed vegetables, tofu, sesame potatoes, fried rice, spring rolls, salad | Chow mein (contains eggs), egg rolls (glazed with eggs) |
| Sakura Japanese Cuisine | York Lanes Retail Centre | Kappamaki (cucumber sushi), inari (soybean sushi), noodles with veggies and/or tofu, miso soup, tofu steak with rice and salad (ask for it without the egg) | Tofu steak with egg, rice and salad |
| Subway | Student Centre Food Court | Veggie delite sub (Italian bread); Sauces: oil, vinegar, mustard, sweet onion sauce and Fruizle | Veggie delite sub (Wheat bread and deli roll contain honey; cheese topped breads contain milk and milk-derived ingredients); all sauces;N.B.: cheese is primarily microbial but may be made with calf rennin so use at your own risk |
| Taco Villa | York Lanes Retail Centre | Vegetarian items can be vegan if you request NO cheese, sour cream or guacomole | Veggie tacos, veggie burritos, veggie platter, veggie salad, veggie quesadilla |
| Taste's | York Lanes Retail Centre | Veggie wrap, veggie sandwich, vegetable soup | Grilled cheese sandwich |
| Tel Cafeteria | Tel Building | Pita Pit: Garden Sandwich, Hummus, Baba ghanoush, FalafelGrill Works: Grilled vegetablesCentre Stage: Vegan Teryaki Stir Fry, Pasta with Tomato SauceExpress: Vegetable sushi rollsGarden Salad: 4 Bean Salad, Pasta salad, garden salad | Pita Pit: Swiss SandwhichGrill Works: Vegetarian Boca BurgerCentre Stage: Vegetarian Stir FryGarden Salad: Greek Salad |
| The Underground**Favourite pick! | Student Centre | Baked empanadas | The soup of the day, Underground quesidillaThree Cheese Garlic Bread,Sweet potato Angnolotti,Penne Arabbiata, Grilled soy Chicken Fusilli,Embers Pad thai, Embers Veggie Burger, Open Faced Mushroom sandwich,Spinach & Herbed Three Potato Gratin |
| Wendy's | Student Centre Food Court | Mandarin Chicken Salad (request for it without chicken); Salad with Fat Free Ranch Dressing or Italian Vinaigrette; Plain baked potato; French fries (however may be cooked in the same oil as products containing milk, eggs, or fish) | Potatoes (with sour cream or cheese), Taco Salad (request for it without chilli) |