Archived Content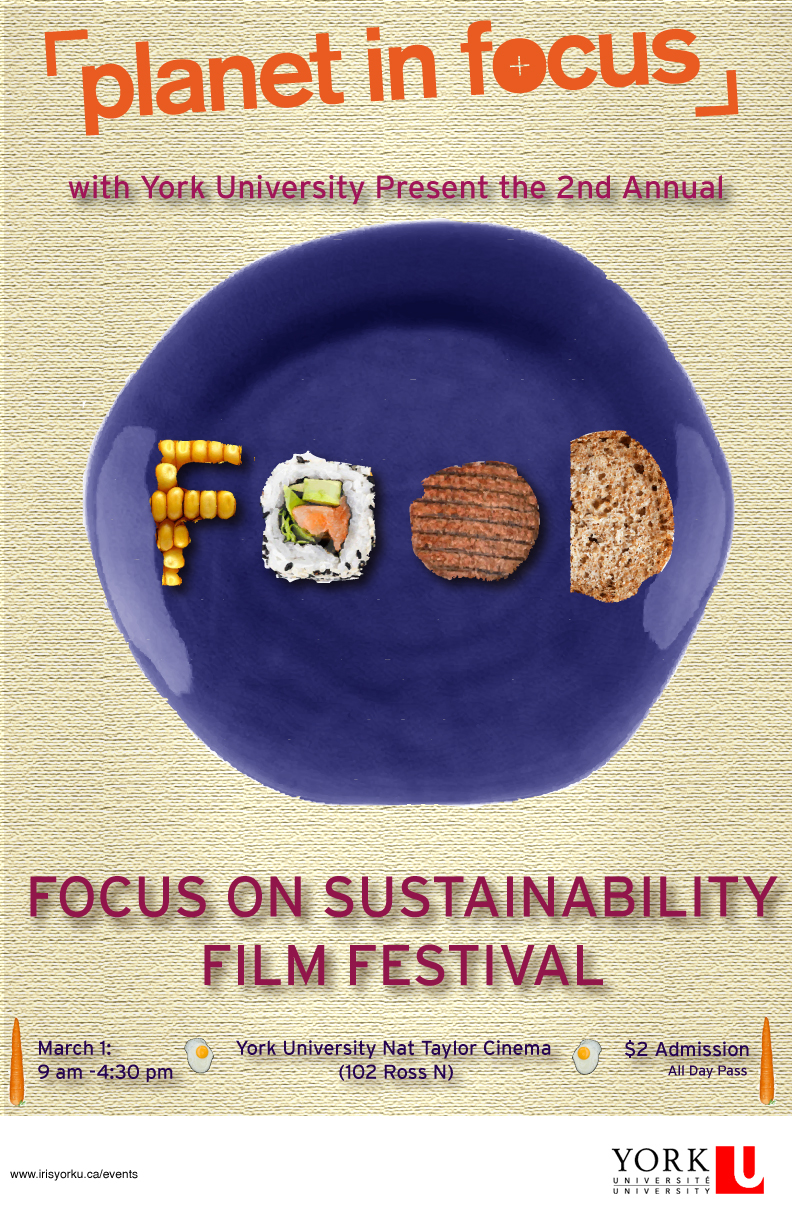 'Planet in Focus with York University Present: Focus on Sustainability Film Festival' – the annual event with its sophomore theme on food! This entertaining and educating experience features domestic and foreign documentaries, a panel discussion with filmmakers, foodies and academics, as well as prizes provided by Fresh Restaurant, MamaEarth Organics and Front Door Organics and more!
Please join us on Friday, March 1st, 2013 in the Nat Taylor Cinema (North Ross 102 at York University) from 9:00am to 4:30pm.
$2 for all day access.
The films:
Bitter Seeds (9:00am)
Click here to watch the Trailer
Love Meat Ender (10:50am)
Click here to watch the Trailer
Urban Roots (12:10pm)
Click here to watch Trailer

Short film: Teo in Toronto by Min Sook Lee
Sushi: The Global Catch (3:00pm)
Click here to watch the Trailer
Our panel discussion will start at 1:30pm.
Panelists
Michael Stadtlander (Chef and activist)
Lawrence Andres (Harmony Organics)
Carly Dunster (Food Lawyer)
We will also be joined, via Skype, by Mark Hall for a brief question and answer session after the showing of his film, Sushi: The Global Catch.
Door Prizes:
Many thanks to our supporters for providing these great door prizes!
Big Carrot: $100 gift certificate
Farmhouse Tavern: Brunch gift certificate for two
Free Times Cafe: Brunch gift certificate for two
Fresh Restaurant: 60$ Gift Card / Reusable Bag / Cookbook
Front Door Organics: $100 gift basket and bag
MamaEarth Organics: $121 gift certificate
Sponsors
Organizing Committee
This festival is brought to you by:
The Institute for Research and Innovation in Sustainability (IRIS)
The Climate Consortium for Research Action Integration (CC-RAI).
 Yfile story about the event:
http://yfile.news.yorku.ca/2013/02/25/focus-on-sustainability-film-festival-to-screen-four-documentaries/?utm_source=YFile_Email&utm_medium=email&utm_campaign=MorningEmail