I am an unabashed Public Radio junkie. All of my Sony Ericsson Walkman phones back to 2006, have not only had integrated flashlights but also functioned as transistor radios, allowing me to be permanently hooked up to CBC Radio 1, or to BBC and NPR Podcasts.
This week's award-winning Age of Persuasion Episode is titled "It's Not Easy Being Green: Green Marketing" and is one of my three essential Podcast episodes of 2011*.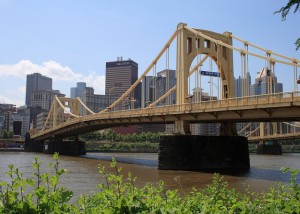 Terry begins with Rachel Carson (that's her bridge in Pittsburgh) and then traces the history of environmentally conscious consumerism, linking it to how marketers and advertisers have shaped their campaigns for sustainable, green goods. In  2007, 300,000 green trademarks were registered with patent offices, which is more than the number of trademarks and patents sought at the height of the dot.com boom.
The three main take-home messages are:
1. "Beginning with the publication of Silent Spring in 1962... various environmental crises have provoked behavioural change and new behavioural changes created new demands from the public." Responding to these demands for new products (such as sun protection lotions following the discovery of the ozone hole) has required "very delicate, very careful marketing on behalf of advertisers".
In green marketing, the public wants to know the motives of companies immediately, and green marketing ignites scrutiny.
2. "One of the biggest problems for marketers is that sustainability is a moving target. And there haven't been any universally-accepted baselines or calculators." E.g. "Are paper products green and good or, do they flatten forests? Is glass eco-friendly or, does it take a lot more fuel to transport glass than it does plastic? Is cotton one of the most natural products in the world or, is cotton one of the world's biggest pesticide crops? It's a very complicated issue."
3. The fatal mistake when it comes to green marketing is that "virtue cannot be proclaimed in green marketing". Smart marketers stay humble in their green marketing, so that the customer and press spread the word about green and ethical companies. Accusations of "Greenwashing", the deceptive use of green marketing or PR (Jay Westerveld, 1986), are likely to be targeted at green marketing campaigns with over-the-top claims, and to have major consequences.
The most cited example of Greenwashing is the rebranding of British Petroleum (BP) as Beyond Petroleum. The campaign strategy was to rebrand BP as a progressive energy company, bp. The rebranding implied that wind and solar were being invested in heavily by BP, but the reality was that BP was investing more than ever in oil exploration. (And, was recently rebranded, and not by themselves, but the public, as Biggest Polluter).
This brilliant episode of The Age of Persuasion ended with the correct observation about the contradiction that lies at the heart of green marketing: that being sustainable means consuming less, while marketing is about encouraging people to consume more. Nevertheless, he goes on to conclude, that the main task of green marketing is to normalize those high quality, truly green products, that are sustainable across multiple social and environmental indicators.
And, from Bruce Philp's new book, The Consumer Republic: "Buy the change you wish to see in the world."
Congratulations, Terry!
Dawn Bazely
*My other two top Podcasts for 2011, so far...
July 26th  2011 Interview of David Altman by Jian Ghomeshi on Q, CBC, about the rise of narcissism in North America: http://www.cbc.ca/q/episodes/
July 2nd  2011 interview of Lori Gottlieb by Jian Ghomeshi on Q, CBC, about how overparenting is creating brittle youth who lack resiliency because their parents have not allowed them to learn how to recover from failure.
The Green Marketing Manifesto by John Grant, was Terry's essential background reading.