Published February 28, 2012
by iris_author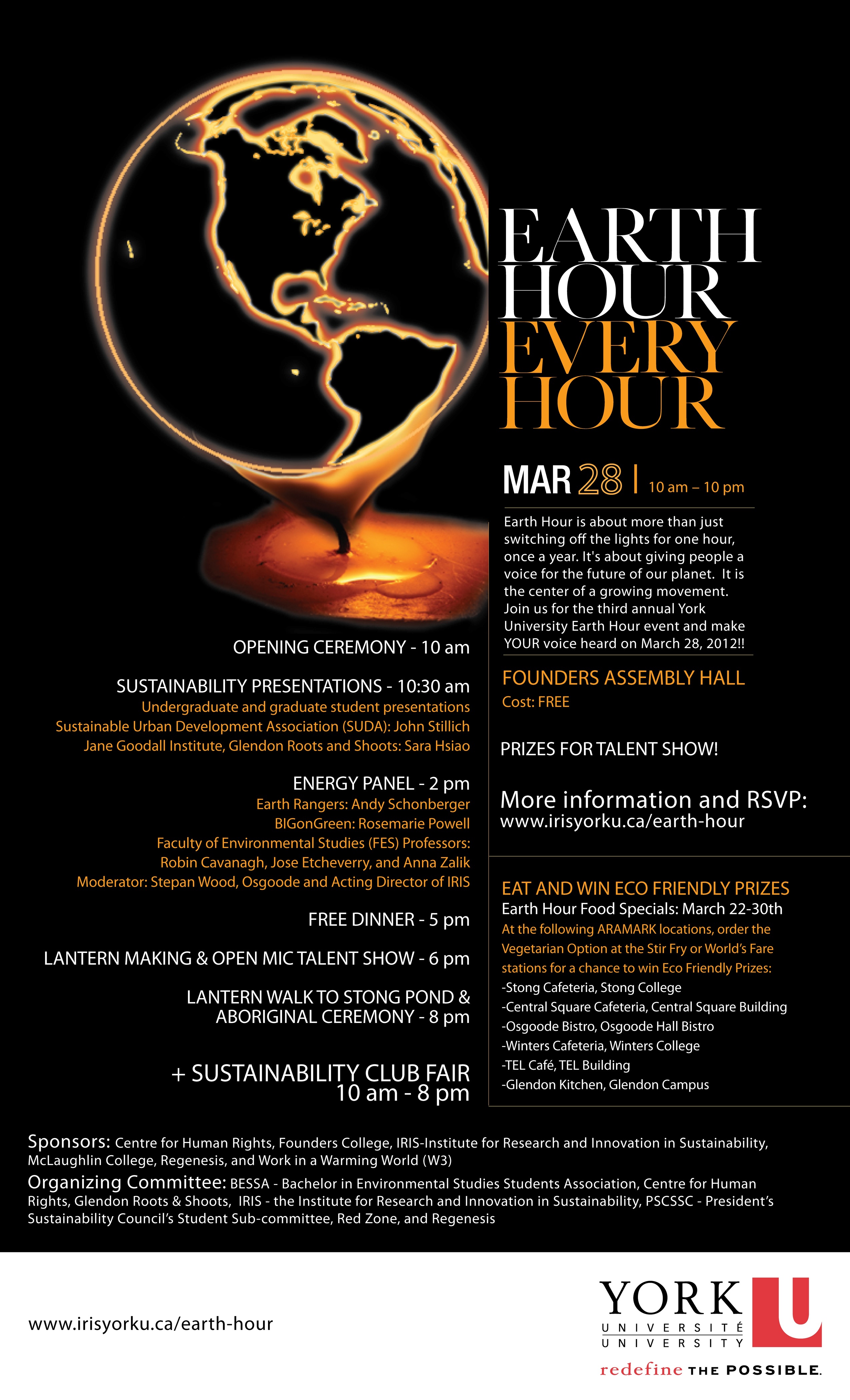 IRIS is hosting its 3rd Annual Earth Hour Event in collaboration with human rights and environmental groups from both Keele and Glendon Campus. Join us on Wednesday, March 28th in Founders Assembly Hall. Earth Hour activities will be happening all day! Presenters include the Jane Goodall Institute of Canada, Earth Rangers and the Sustainable Urban Development Association as well as various York University professors. Come and check out clubs on York Campus and participate in workshops such as lantern making. This event is free, with lunch and dinner provided. The evening will end with live music and an open mic talent show!
Earth Hour began in 2006 when the World Wildlife Fund (WWF) in Sydney, Australia introduced the plan to turn off lights for an hour to take a stand against climate change. Since 2008, Earth Hour has become an international event; Toronto was the first city outside of Sydney to adopt Earth Hour! Earth Hour is a day of celebration and recognition for greater innovation in sustainability. We welcome you to join our Earth Hour event and raise the standard of action against climate change here at York University.
Outcome: This year, over 150 students came out to the Earth Hour event to participate and increase their awareness about building a sustainable earth!
Schedule
OPENING CEREMONY - 10 am
SUSTAINABILITY PRESENTATIONS - 10:30 am
Undergraduate and graduate student presentations
10:40 am - Junaid Khan– Mega Quarry - 20 min
11:00 - Tien Tien Hu - 20 min
11:20 - Alex Todd – 40 min
12:00 pm - John Stillich, Sustainable Urban Development Association (SUDA) – 20 min –
(needs a projector)
12:20 - Sara Hsiao - Jane Goodall Institute, Glendon Roots and Shoots - 20 min
12:40 - Amy - Art History - 20 min
LUNCH - 1pm
ENERGY PANEL - 2 pm
Earth Rangers: Andy Schonberger
BIGonGreen: Rosemarie Powell
Faculty of Environmental Studies (FES) Professors: Robin Cavanagh, Jose Etcheverry, and Anna Zalik
Moderator: Stepan Wood, Osgoode and Acting Director of IRIS
FREE DINNER - 5 pm
LANTERN MAKING & OPEN MIC TALENT SHOW - 6 pm
LANTERN WALK TO STONG POND & ABORIGINAL CEREMONY - 8 pm
+ SUSTAINABILITY CLUB FAIR - 10 am - 8 pm
Sustainability Clubs and Organizations
Bachelor of Environmental Studies Student Association
Centre for Human Rights
CHRY 105.5 FM
Council of Canadians- York University Chapter
Free the Children at York University
Glendon Roots and Shoots
IRIS - the Institute for Research and Innovation in Sustainability
Learning for a Sustainable Future (LSF)
Regenesis @ York
Smart Commute - North Toronto, Vaughan
Students Against Israeli Apartheid
sustainability@yorku
Zeitgeist York
Partners
Centre for Human Rights
Regenesis @ York
BESSA - Bachelor of Environmental Studies Student Association
Red Zone
Glendon Roots and Shoots
President's Sustainability Council Student Sub-Committee
IRIS - Institute for Research and Innovation in Sustainability
Sponsors
Centre for Human Rights
Founders College
McLaughlin College
Regenesis @ York
Work in a Warming World (W3)
IRIS - Institute for Research and Innovation in Sustainability
Posted in: Events