Published November 18, 2013
by afdubreu
By Emily A. McKinnon, PhD candidate
Bird migration is one of nature's most spectacular phenomena: every spring and fall, millions of migratory birds travel thousands of kilometres from their breeding grounds in temperate regions to wintering sites in the tropics. A typical warbler weighs about 10g (less than 4 pennies!), and might travel 14,000km round-trip, from the boreal forests of Canada to a tropical winter home in the Amazon basin. Unfortunately, many of these small songbirds have their migrations abruptly ended when they collide with anthropogenic structures, such as buildings, cell towers, and wind turbines.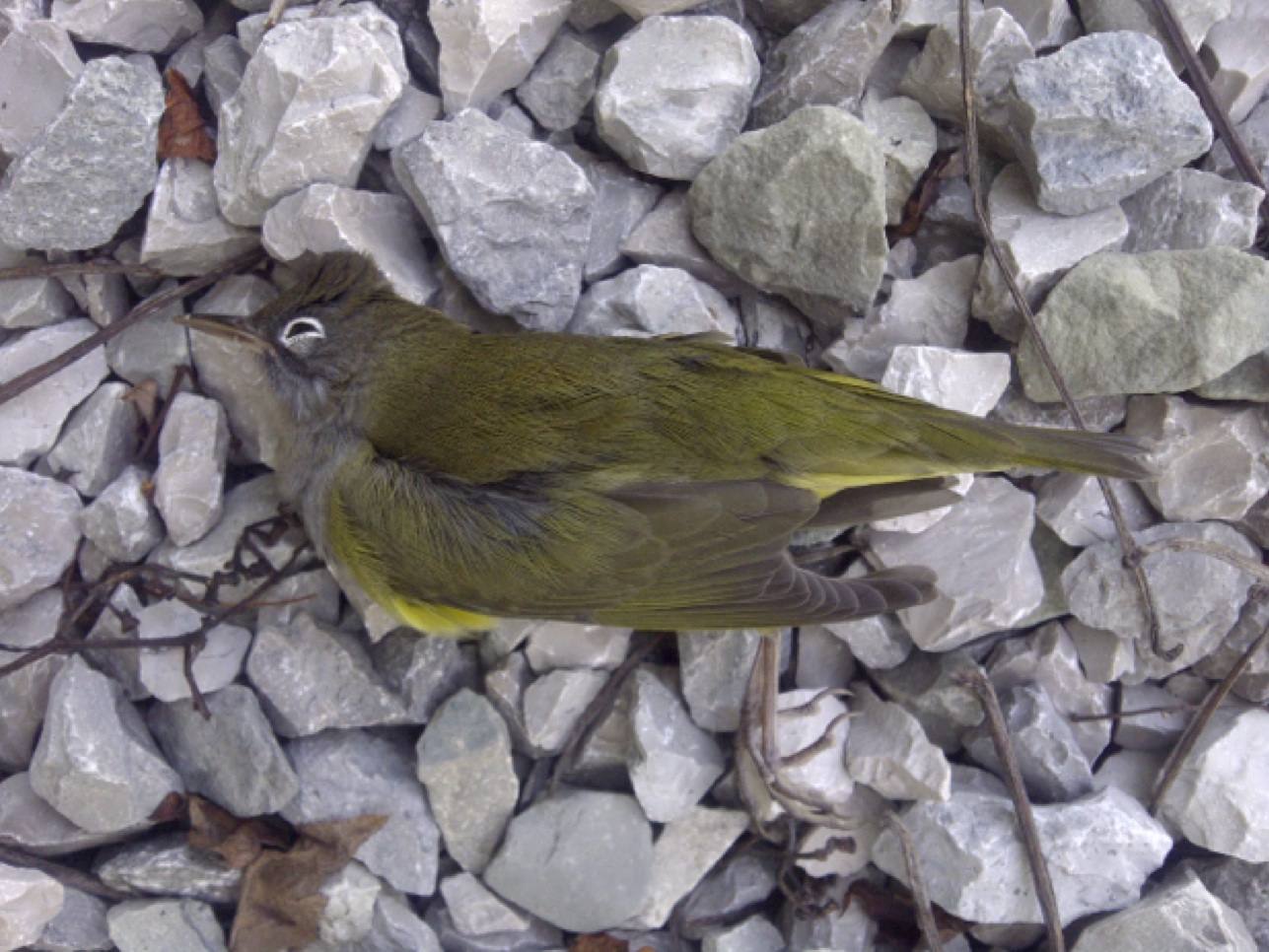 Migration is generally a risky time for songbirds; some studies suggest that most mortality of songbirds occurs during the migratory periods in spring and fall. However, we are making it even more dangerous for the birds by peppering ancient migration routes with huge cities full of disorienting light pollution and reflective glass. This is hazardous for migratory birds because most species travel at night and use the stars as navigational cues. When they fly over a brightly-lit city, they are actually attracted to the lights in tall towers. This attraction causes birds to hit windows or become disoriented and eventually exhausted, with the final result that the bird is on the ground, dead or nearly so, by first morning light. A few stray city cats, racoons, or even gulls finish off the birds that are still alive.
In Toronto, lights in skyscrapers have been recognized as a problem for birds for some time. FLAP, the Fatal Light Awareness Program, organizes volunteers to scour Toronto streets during migration in the pre-dawn hours, to collect any dead birds and rescue any still alive. FLAP estimates that 9 million migratory birds die in Toronto every year from collisions with buildings.
This might sound like a problem that really only affects birds near tall buildings down town, but York University buildings take their toll on migratory birds as well. The Bird Lab at York University has been monitoring window strikes on campus for several years. In 2011, we made an effort to quantify our search efforts and identify the most dangerous buildings for birds. What we found shocked us: the most deadly building on campus for migratory songbirds was… Lumbers, home of our own Bird Lab and the Biology Department! 
In 2011 we found 20 dead or injured birds during fall migration around Lumbers. So far this year (2013), we have been surveying for 2 weeks and have found 6 dead birds. Other buildings on campus that regularly result in window strikes are Petrie, Chemistry, Health Nursing and Environmental Studies building, and the Wu Centre for Student Services. However, Lumbers accounted for 72% of the dead birds we found during fall 2011.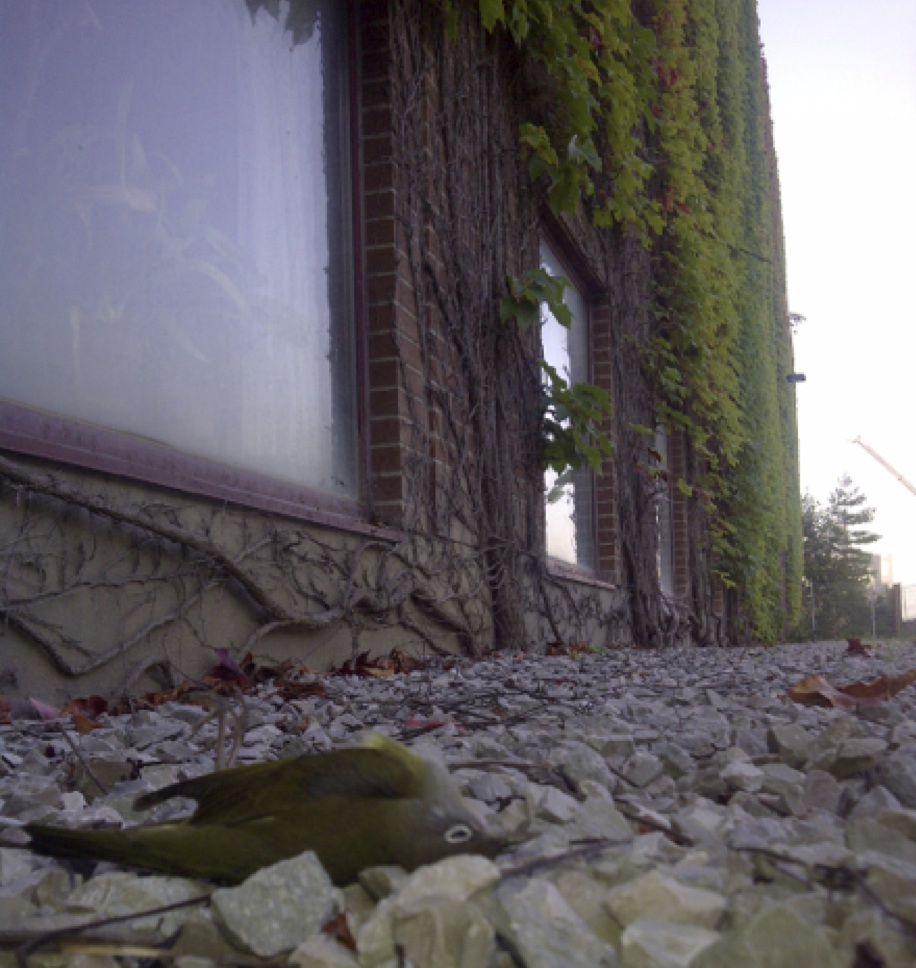 A rare Connecticut Warbler found outside of Lumbers on September 11, 2013.
Why is Lumbers such a problem? We believe that there are three characteristics that make Lumbers particularly dangerous for birds: 1) It is adjacent to the Boyer woodlot, which many birds probably use as a stopover site during migration. The woodlot is reflected in the windows on the north side of the building and birds fly into them during the day, thinking that it is more forested habitat. 2) In fall, Lumbers is covered with berry-laden ivy. This attracts fruit-eating birds, such as thrushes and grosbeaks, and the windows appear as dark holes that they can fly through. 3) There is a road on the north side of Lumbers between the woodlot and building, so birds likely fly towards the building quickly and directly to avoid staying in the open, resulting in hard windows strikes that probably kill on impact (as opposed to a glancing blow which might cause some minor injury but not death).
Thankfully there is a bird-friendly solution to this issue. Since most of the birds that are killed on campus probably hit the windows during the day, it's not an issue of turning off lights at night (that helps if you live in a condo downtown, though!). To reduce window kills, all we have to do is make it obvious to the birds that a window is a solid object and not a flyway by reducing the reflectivity on the outside surface of the window. Some people are familiar with hawk silhouettes or bird cutouts placed on the inside of windows or glass doors – these have been shown to be totally ineffective. What is required is something on the outside of the window, and something that covers the entire surface of the window, so there are no gaps bigger than about 10x10cm.
There is a cheap and effective option made by 3M and sold by a company called Feather Friendly (www.featherfriendly.org). Basically it is a special tape with small dots on it that covers the window to break up the reflection on the outside. We are looking into getting this 'Feather-Friendly' tape put up on the windows, especially on the northside of Lumbers across from the woodlot. It is our hope that by next fall, we can reduce the impact by 100% and let the migratory birds continue their journey southwards. They already have to travel thousands of kilometres, and many even fly directly across the Gulf of Mexico – we should be helping these little travellers as much as we can so that they continue their spectacular migrations into the future.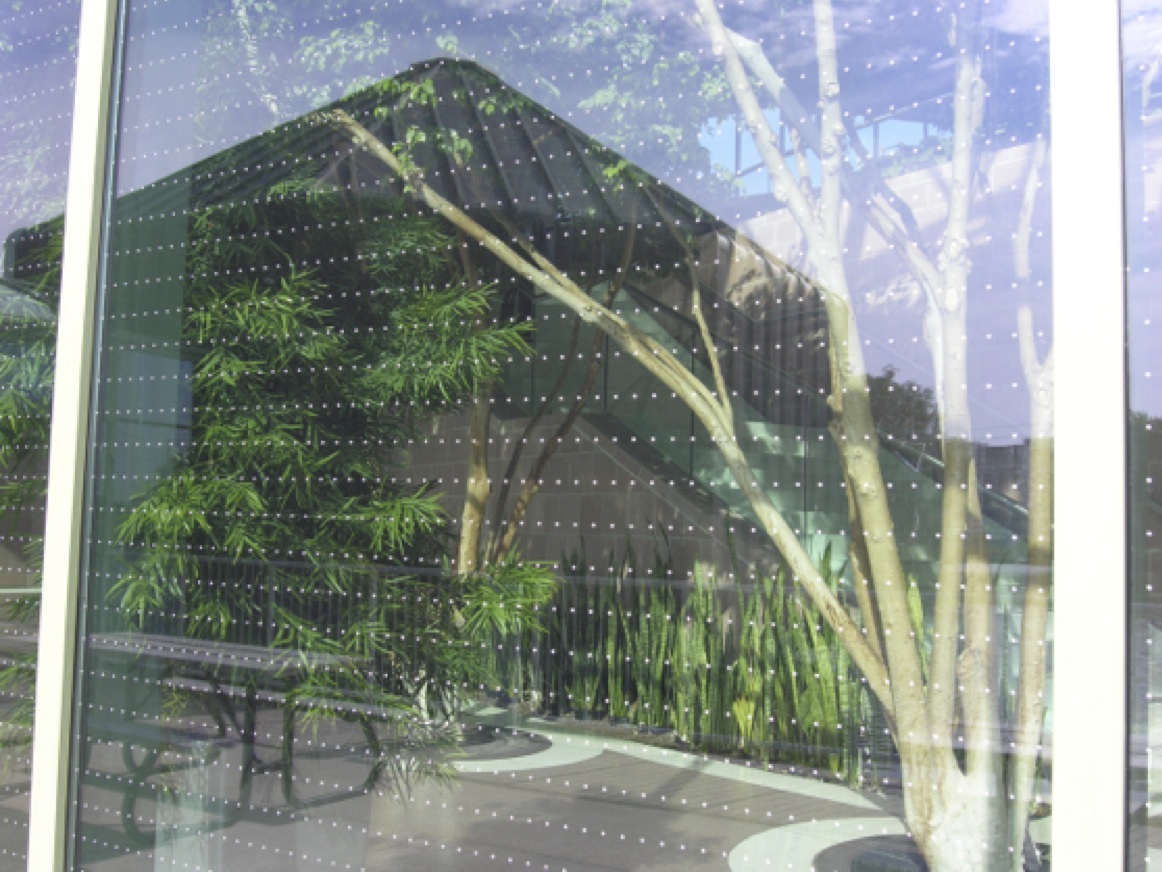 Feather-Friendly tape applied on the window to reduce the reflection (view from outside). Photo from featherfriendly.org.
Posted in: Blogs | Students Speak