Archived Content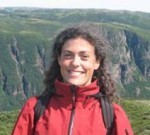 Postdoctoral FellowB.Sc. Botany (1999) McGill; M.Sc. Forest Nutrition (2001) McGill; Ph.D
Research Interests.
 Ethics and Forestry (2008) University of British Columbia.
Environmental philosophy, science and technology studies, and natural resource science and management. Her previous work has focused on the values and ethics underlying and transmitted through scientific approaches to forest management. She has also conducted research on social capital, science policy, and collaboration in forest sciences.
Biography
Dr.Nicole L. Klenk is currently working on a policy-relevant synthesis of the state of knowledge about invasive alien species and climate change in Canada at the Institute for Research & Innovation in Sustainability at York University. She is also involved in a project assessing what are the characteristics of environmental governance established in Canadian biosphere reserves and model forests that foster or hinder sustainability, resilience, and social innovation. This research is taking place at the Department of Environment and Resource Studies, University of Waterloo and at the School of Environment and Sustainability, University of Saskatchewan.