Published April 30, 2013
by igarrett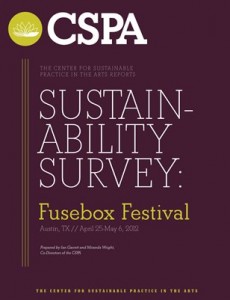 Sustainability is a complicated idea. Amongst other possibilities, it can refer to environmental and economic issues. With the effects of the global economic climate on arts funding, both are hot topics when taking about the creative sector. However, most conversations don't address both this definition AND issues of environmental sustainability, even though both are equally included with the most commonly held definition of sustainable development and ideas of the triple bottom line.
In August of 2011 Ron Berry and Brad Carlin got in touch with the Center for Sustainable Practice in the Arts to talk about the Fusebox Festival and issues of sustainability. Leading up to the festival through the end of 2011 and the first part of 2012, we developed a methodology for measuring various impacts of Fusebox on its community with two primary things in mind. First was to explore the idea of cultural offsetting; looking how environmental, social and economic impacts of the Fusebox interrelated. The Second, because this was Fusebox, was how this would, itself, fit the programming.
To address the first concern of interrelated impacts, we tracked the carbon footprint of audience travel, the density of audience attendance over time, various forms of engagement, the potential economic impact of the festival, and key external factors like weather and non-Fusebox events across Austin. Using the various data sources, we then generate graphic representations of how these factors related to time and space in Austin. It was the next step which made the project part of what makes the Fusebox Festival and the CSPA unique. The infographics we created were enlarged by hand to create an installation which covered the East wall of the festival hub. The former Tops Furniture Warehouse, and the adjacent field had been temporarily taken-over by the festival to serve as the central gathering point for audience, artists and curious passersby. Using reused 8' x 4' scenic flats--generously donated by the Austin Scenic Co-op--the computer graphic data representations were translated into spray paint and string, by local leaders in sustainable practice in theatre, Derek Kolluri and Jennifer Lavery.
While the project hasn't explicitly drawn a clear link between the economic and environmental sustainability of the Fusebox Festival, it has given us common ground to consider the connection between culture and climate as a direct and metric relationship. Many of the environmental issues we look at in the cultural industries, outside of the messages we express, come down to resourcefulness, and have a positive financial impact on the arts organizations and producers who actively pursue more environmentally sustainable practices. So, as organizations which already balance mission and money, valuing sustainability both environmental and economic should easily fit in our administrative framework. And, building these connections will make us more nimble, smart and responsive in the markets we're tied to in our greater society.
Download the PDF orPurchase a Hardcopy HERE
Posted in: Arts & Culture | Blogs