Published March 6, 2014
by hdrdla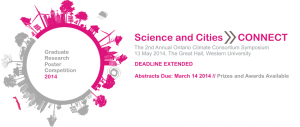 The OCC is pleased to launch a call for poster presentations for its 2014 Climate Change Symposium taking place at Western University in London, Ontario on May 13, 2014. This year's theme is Science and Cities >> CONNECT. We are inviting graduate level students to submit research poster presentations with either a science or a social science foci on climate change adaptation, mitigation, policy, communications, etc. Participants are invited to submit abstracts and indicate their relevance to key OCC research themes.
Preference will be given to research projects involving a specific focus on Ontario and the interaction between cities and climate change given the foci of this year's symposium. However, this is not a requirement. Prospective participants are invited to make submissions in relation to the OCC's research themes, which include:
Climate and City Infrastructure;
Water, Cities, and Climate;
Climate and Urban Ecology;
Climate Change and Public Health; and,
Climate Change and Urban Tourism.
Again, all research projects with a science, social science or communications foci are welcome, this includes research projects with audiovisual, social media components, etc.
Benefits for student participants
Networking opportunities with industry leaders, potential employers, senior researchers and other students;
The opportunity to showcase your research and its relevance to practitioners from a wide range of sectors; and
Cash prizes and awards for winning entries. Currently, a $300 cash prize is available. Information about additional prizes will be available soon.
Deadlines
Due to popular demand, the deadline to submit abstracts has been extended.
Submission of abstracts: Friday, March 14, 2014
By submitting an abstract you will be entered to win an early-bird prize.
Please send a digital copy of your submission to the organizers by: Friday, May 9, 2014
The author(s) are responsible printing and presenting their research posters at the symposium.
Final PDF copies of research posters should be sent to the organizers to be made available online at climateontario.org.
Posted in: Opportunities | Research